Recipes Using Honey

Bees Made Easy Glazes and Sauces
---
Simply Sweet Honey Sauces

---
Recipes using honey can be sweet, savory, spicy, fruity or even creamy. The possibilities are as limitless as our imaginations. Below we have started you out with a few of our all time favorite sweet recipes, next we list a few of our favorite savory, and then we finish up with recipes using honey for glazes.

Vanilla Honey Sauce

1/3 cup honey

3 tbsps melted butter

1/4 tsp vanilla extract

Great over ice cream or crepes


Chocolate Honey Sauce

8 ozs

semisweet chocolate (bittersweet not unsweetened, chopped)

1/

2

cup unsalted butter

3 Tbs

honey

Universal Honey Sauce

1 cup firmly packed brown sugar
1/2 cup butter or margarine
1/4 cup honey
1/4 cup whole milk

Boil all ingredients over medium-high heat, stirring constantly; 2 min.
---
Savory Honey Sauces

---
Do you have some special savory recipes using honey that you can share with everyone? Please share! We are always interested in new ways to enjoy our honey.

Honey Mustard Recipe

1

1/

2

cups mayonnaise

1/

4

cup dijon-style mustard (prepared)

1/

2

cup honey

Honey Chipotle Sauce


1/4 cup of honey
1 tbs of agave nectar
1 tsp of chipotle adobo

mix until well combined

Honey Garlic Sauce


3/4 cup brown sugar, packed
2 tbls. corn starch
3/4 cup water
3 tbls. soya sauce
1 tbls. honey
2 cloves of garlic, crushed or 2 tbls. garlic powder

Combine sugar, corn starch, and garlic powder if using it. Add water, soya sauce, honey and fresh garlic. Bring to a boil stirring constantly. Pour sauce over your cooked meat and serve immediately or keep warm in low heat oven. Excellent with rice.
Want to get creative with sauce recipes using honey? Try mixing some wet ingredients maybe simmering them until combined. Then add your spices.
There is one recipe we use for grilled corn that has red pepper and cilantro in the recipe. The red pepper and the cilantro actually go on the grilled corn. Then you add melted butter and then drizzle with honey.
So keep in mind that not all recipes using honey have the spices cooked into the honey. Be creative, surprise yourself.

Honey Glaze Recipe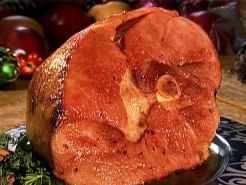 Does your mouth water every time you think of the taste of sweet crystallized honey sugar crusted ham against the salty cured taste?
Try this honey glaze recipe and then submit your own. This glaze claims to make left overs as good as the original dinner, and I agree!

Ingredients
½ cup mild honey such as clover or orange blossom
1½ tablespoons Toasted Spice Rub (see below)
1 apple wood-smoked or honey-cured, boneless, fully cooked ham, about 4 pounds
Directions
Preheat the oven to 325°F.
In a small bowl, stir together the honey and the spice mixture. With a sharp knife, make a series of cuts, ½ inch deep and ½ inch apart, the entire length of the ham. Rotate the ham 90 degrees and make a second series of cuts, the same depth and the same distance apart, across the width of the ham.
Line a rimmed baking sheet with aluminum foil and place the ham on the pan.
Bake, basting every 15 minutes with the honey mixture, until an instant-read thermometer inserted into the thickest part registers 150°F, 1 to 1¼ hours.
Remove the ham from the oven and let rest for 10 minutes.
Carve the ham across the grain into slices of desired thickness. Arrange on a platter and drizzle with any remaining honey mixture.
Spice Mixture: Toasting spices releases their aromatic oils, resulting in more complex flavors. Taste your chili powder, and if hot, use less than the recipe indicates.
¼ cup fennel seeds

1 tablespoon coriander seeds

1 tablespoon black peppercorns

1½ teaspoons red pepper flakes

¼ cup California chili powder

2 tablespoons finely ground sea salt, preferably gray salt

2 tablespoons ground cinnamon
In a small, heavy skillet, combine the fennel seeds, coriander seeds, and peppercorns over medium heat. Watching carefully, toss the seeds frequently so that they toast evenly. When the fennel seeds turn light brown, work quickly. Turn on the exhaust fan, add the red pepper flakes, and toss, toss, toss, always under the fan. Immediately turn the spice mixture out onto a plate to cool. (They must be cool before grinding, or they will gum up the blender blades.)
Pour the cooled spices into a blender and add the chili powder, salt, and cinnamon. Process until the spices are finely and evenly ground. If you have a small spice mill or a coffee grinder dedicated to grinding spices, grind only the fennel, coriander, pepper, and red pepper flakes, then pour the ground spices into a bowl and toss with the remaining ingredients. Store in an airtight container away from light and heat for up to 4 months, or freeze for up to 1 year. Makes About 1 Cup
Share your favorite recipes using honey for glazes or sauces with Bees Made Easy Readers.