No Trade Honey & PB Sandwich
by Wendy Scheurich
(Defiance, Ohio)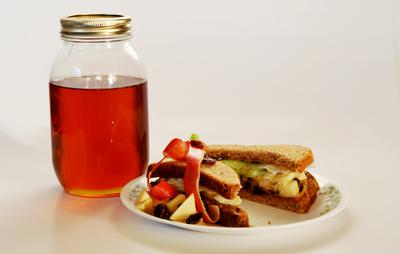 2 slices whole grain bread
2 Tbsp. Honey
2 Tbsp. Peanut Butter
1 Tbsp. raisins
1/4 cup apple, chopped in small squares
1/2 banana, sliced thin lengthwise
1 crispy leaf lettuce

Mix 1 Tbsp. honey (reserve 1 Tbsp. for later), peanut butter and raisins. Spread mixture on 1 slice of bread. Spread reserved tablespoon of honey on second bread slice. Top honey mixture with apples, Top apples with thinly sliced banana. Place lettuce atop banana, then place second slice of bread, honey side down, on top of banana. With knife, cut sandwich from corner to corner and pop into a sandwich bag. Place in lunch box.

This recipe never fails to please. For kids, it's sweet, it's crispy, it's filling, and it tastes good. For busy moms, it's easy, quick, and especially nutritious. When my son was in school he loved it and would never have traded it for something else. It's a great mix and is always a welcome treat.